Why eat a salad when you can have this Veggie Crostini?! Once you take the first bite into the Crostini you'll see how fantastic this recipe really is!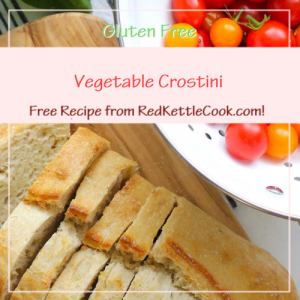 Ingredients:
3 oz. organic salad greens, washed, drained & chopped
2 small ripe organic tomatoes, chopped
2 tsp. organic red onion, minced
1 tsp. organic balsamic vinegar
Sea salt & organic black pepper, to taste
Butter
10 thin rounds of gluten free Italian bread
1 clove of organic garlic, halved
Directions:
Preheat oven at 300°F.
In a large bowl mix the greens, tomatoes, onion, olive oil, vinegar, salt & pepper (to taste).
Butter the bread & rub it with the garlic cloves.
Top the bread with the salad mixture.
Bake until warm & serve immediately.
Note: Experiment with different herbs & spices until you find a mixture that suits you best!