The addition of an avocado is the secret ingredient on this recipe. It makes the turkey burgers moist.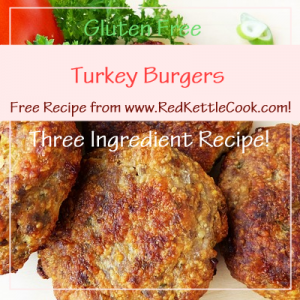 Ingredients:
1 to 1.5 lbs. ground turkey
1 onion, diced
1 avocado, diced
For seasonings, you might like to add these to your patties:
1 tsp garlic powder
1/2 tsp salt
1/2 tsp ground pepper
Suggested Toppings:
Mushrooms
Tomatoes
Lettuce
Spinach
Instructions:
Mix the ground turkey, your choice of seasonings, the onion and the avocado in a bowl. The best way to do this is with your hands!
Shape into patties.
To cook your Turkey Burgers you can use a pan on your stove but be sure to spray it with a non-stick cooking spray. They will taste the best if you grill them!