This soup hits you right where you need it to! It's something to write home about! One of the recipes that you will make, every time you need to feel comfy & cozy anytime of the year!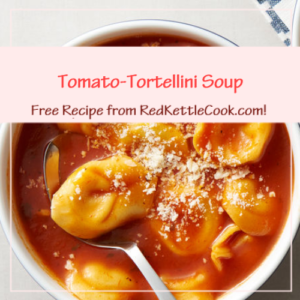 Ingredients:
2 tsp. olive oil
2 T. minced garlic
1 T. Italian seasoning
1 – 28 oz can crushed tomatoes (or use 1 jar favorite tomato sauce)
1 quart chicken broth or vegetable broth
2 c. dried tortellini of your choice.
1/4 c. Parmesan cheese
Directions:
In a Dutch Oven or soup kettle heat oil & garlic until garlic starts to sizzle.
Add chicken or vegetable broth, tomatoes & Italian Seasoning. Then bring to a boil.
Add tortellini & return to boil.
Turn heat down & simmer uncovered for about 10 minutes.
Serve.