This is a family favorite! It's all comes together quickly, in a single casserole dish & cleanup is a breeze!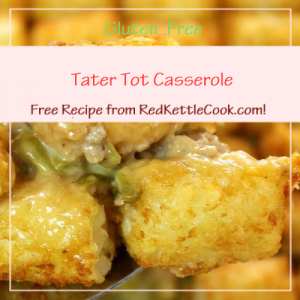 Ingredients:
1 lb. lean ground beef or turkey
1 medium organic onion, chopped
1 – 16 oz. can of green beans, drained
1 can of organic cream of mushroom soup
1 bag of frozen gluten free tater tots
Instructions:
Preheat oven at 350°F.
Brown the ground beef & onion. Then drain off the excess juices.
Add the green beans & soup. Cook until warm & the flavors are well blended. Do not overcook!
Spray the bottom of a 9″ x 13″ casserole dish with extra virgin olive oil.
Line the bottom of the casserole dish with half of the tater tots.
Next add the ground beef mixture on top of the tater tots.
Then finish the casserole dish with the rest of the tater tots.
Bake for 45 minutes or until you see the juices bubbling up the sides of the casserole dish.