Tasty Homemade Pepperoni Pizza
Wowser! A pizza made with a cream cheese crust? Can you even imagine it? Well, guess what? The recipe for it is right here & you can make it anytime you wish!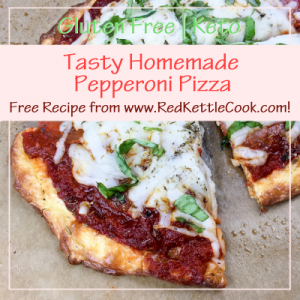 Serves 4
Ingredients:
8 oz. cream cheese, at room temperature
2 large eggs, at room temperature
1/3 c. Parmesan cheese, freshly grated
1 1/2 tsp. organic dried basil, divided
1 1/2 tsp. organic dried oregano, divided
1 tsp. organic garlic powder, divided
Sea salt and black pepper, to taste
1 1/2 T. tomato paste
3 T. sugar free tomato sauce
4 oz. pepperoni, thinly sliced
1 c. Mozzarella cheese, shredded
Fresh basil leaves, cut into thin slices (optional garnish)
Instructions:
Preheat oven to 375°F & line a large rimmed baking sheet with parchment paper. Set aside.
Combine cream cheese, eggs, Parmesan cheese, 1 teaspoon basil & oregano & 1/2 teaspoon garlic powder in a medium-sized bowl.
Season with salt and black pepper (to taste) & whisk until mixture is completely blended & smooth.
Spread the cream cheese mixture onto the prepared baking sheet into the desired shape and thickness. (For thicker crusts, reduce oven temperature to 350°F and for best results increase baking times).
Place the crust in the preheated oven for 8 to 10 minutes, or until slightly puffed & golden brown. Check halfway through cooking time to ensure the crust bakes evenly and does not become too brown. Turn the baking sheet 90 degrees (if necessary) so it cooks evenly all the way around.
In the meantime, whisk the tomato paste, tomato sauce, the remaining dried herbs & the garlic powder in a small bowl. Lightly season with salt & black pepper (to taste) and stir to combine. Set aside.
Remove the pizza base from the oven & let cool for 5 to 10 minutes before topping with tomato sauce, sliced pepperoni, and shredded Mozzarella cheese.
Return pizza to oven & bake for another 10 minutes, or just until the cheese is melted and bubbly.
Remove from oven and garnish with fresh basil (if desired) & serve immediately.