Taco Bowls with Avocado Salsa
This is a great Tex-Mex dish to serve if you have a hankerin' for some tried & true south of the border food!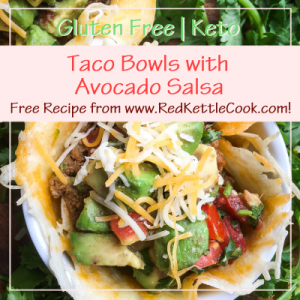 Serves 6
Tip: You'll need six 3" ramekins or a muffin tin to make this recipe.
Ingredients for Taco Bowls:
2 c. Colby Jack cheese, finely shredded, divided
1 lb. ground beef (or ground turkey, both at least 80% lean)
1/4 c. water
1 T. organic chili powder
1 T. organic ground cumin
1 tsp. organic garlic powder
1 tsp. organic onion powder
1 tsp. gluten free smoked paprika
Sea salt and black pepper, to taste
Ingredients for Avocado Salsa:
1 medium avocado, diced
1 small tomato, seeded and diced
2 T. fresh lime juice
1 T. fresh cilantro, chopped
Sea salt and black pepper, to taste
Optional Garnish:
1/2 c. sour cream
Instructions:
Preheat oven to 200°F and line a large baking sheet with a piece of parchment paper or a silicone baking mat. Set aside.
Divide 1 1/2 cups of the shredded cheese into 6 piles (approximately 1/4 cup each) on the prepared baking sheet and spread each pile into a thin circular layer. Place baking sheets in the preheated oven until the cheese is melted & slightly browned around the edges, around 5 to 6 minutes.
Remove from the oven and let cool for 2 to 3 minutes, then remove the cheese and press into 3" ramekins or a muffin tin to form cups. Let cool for several minutes before gently removing the cheese cups from the form. Note: If using ramekins, the taco cups can remain in the container for extra support when serving.
In the meantime, add the ground beef to a large skillet over medium heat & cook until the beef is browned and cooked through, approximately 6 to 8 minutes. Carefully drain excess grease from skillet and return to cooktop.
Add water & season with chili powder, ground cumin, garlic powder, onion powder & smoked paprika. Season with salt & black pepper (to taste). Stir to combine. Simmer for 2 to 3 minutes or until warmed through.
While the beef is cooking, combine the avocado, tomato, lime juice & fresh cilantro in a medium bowl. Season with salt & black pepper (to taste) and gently stir to combine.
To serve, fill the taco cheese cups with beef, avocado salsa & remaining shredded cheese. Top with a spoonful of sour cream (if desired).