Sweet & Sour Glazed Chops
The lime juice and zest, in the sauce, gives this recipe a little unexpected zip to it!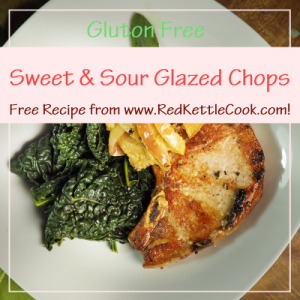 Serves: 4
Ingredients:
4 boneless pork loin chops, cut 3/4 inch thick
1/4 teaspoon pepper
2 tablespoons lime zest
1 tablespoon lime juice
1 tablespoon honey
1 tablespoon garlic, minced
1 tablespoon olive oil
4 lime wedges
Instructions:
Sprinkle the chops on both sides with the pepper.
Place the lime zest, lime juice and honey in a small mixing bowl.  Whisk to combine together well.  Pour over the chops.
Press the garlic into both sides of the chops.
Place the oil in a large skillet over medium high heat.  Heat the oil until hot but not smoking.
Place the prepared chops into the hot oil.  Cook 5 minutes.  Turn and continue cooking 3 minutes or until nicely browned.
Let the pork chops rest for 3 to 5 minute's before serving.
Serve each a wedge of lime.