Sweet Sauerkraut – Czech Style!
This is a great recipe! It goes with just about anything you make! From dumplings to meat or you can just eat it by itself. If you've never tried it, it's a delightful explosion of flavor, on your palate!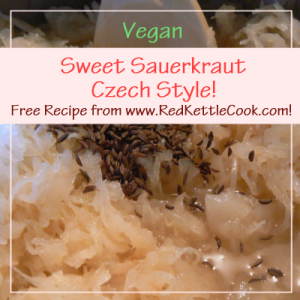 Ingredients:
1/2 T. organic extra virgin olive oil
1 onion, chopped
1 15-oz. can of sauerkraut, drained
1/4 cup sugar (or Monk fruit sweetener)
1 tsp. caraway seeds
Instructions:
Heat the olive oil in a heavy pan over medium heat. Add the onion & sauté until it's translucent & soft.
Then add the sauerkraut, sugar & caraway seeds. Stir & bring a simmer.
Once it begins to simmer, reduce the temperature to medium-low, cover the pan and let cook for about 20 minutes.