When it's time for a picnic or a potluck, this dish is much better & healthier than regular potato salad!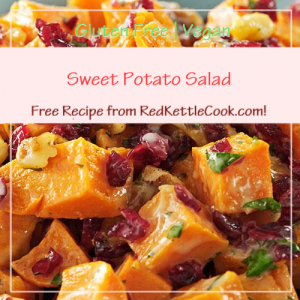 Yields 8 servings
Ingredients:
3 organic sweet potatoes (about 1 1/2 lbs.)
1 organic Vidalia or organic red onion
1 organic green pepper
1/4 c. Champagne Vinaigrette
Directions:
Cook the potatoes in a pan with boiling water until they're fork tender. Don't overcook!
Let them cool down then slice them into 1/4″ slices.
Slice the onion into thin rings & slice the pepper into thin strips.
In a large bowl combine the sweet potato slices, onion rings & green pepper strips.
Refrigerate for at least 1 hour.
Toss lightly with the Champagne Vinaigrette just before serving.