Sweet Potato & Kale Egg Bake
This is an easy, healthy alternative to your typical American breakfast that is oh so easy to make and oh so tasty to eat!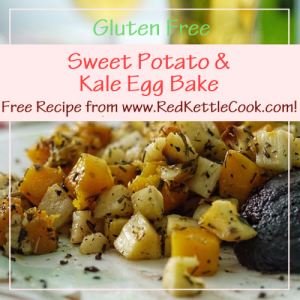 Ingredients:
1 sweet potato, peeled and cut in chunks
1 small bunch of kale, washed and cut into bite sized pieces
4 eggs
Directions:
Preheat oven to 425°F.
Spread sweet potato chunks evenly in oven-proof pan and bake for 20 minutes.
Turn oven down to 400°F.
Add kale.
Make space for eggs, crack them into the pan (or in a separate bowl and add them to the pan).
Bake for 8-10 minutes.