When you get the itch & want something to snack on right way—this recipe's one of the most healthy ones for you!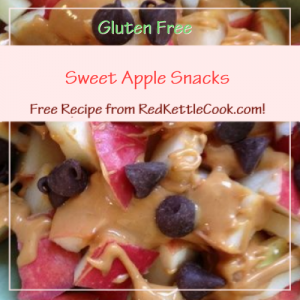 Yields 8 servings
Ingredients:
4 oz. fat free or reduced fat cream cheese, softened
1/4 c. organic peanut butter
2 T. mini gluten free chocolate chips
2 lg. organic apples (such as Gala, Lady Pink, Honeycrisp)
Instructions:
In a small bowl combine the cream cheese, peanut butter & chocolate chips. Mix well.
Cut each apple into 12 wedges. Discarding the stems & seeds.
Spread about 1 1/2 tsp. of the cream cheese mixture over each apple wedge.
Reserve the remaining cream cheese mixture for use as a dipping sauce for serving.