Sweet and Sour Glazed Chops
No need to call for a to-go carton from your favorite Chinese restaurant, just make these Sweet and Sour Glazed Chops to satisfy your hunger for takeaway.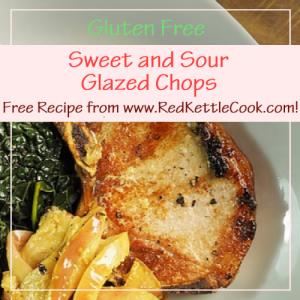 Ingredients:
4 pork loin chops, cut 3/4 inch thick
1/4 teaspoon black pepper
2 T. lime peel, grated
1 T. lime juice
1 T. honey
1 T. garlic, minced
1 T. organic extra virgin olive oil
4 lime wedges
Directions:
Sprinkle the chops on both sides with the pepper.
Place the lime peel, lime juice and honey in a small mixing bowl. Whisk to combine together well. Pour over the chops.
Press the garlic into both sides of the chops.
Place the oil in a large skillet over medium high heat. Heat the oil until hot but not smoking.
Place the prepared chops into the hot oil. Cook 5 minutes. Turn and continue cooking 3 minutes or until nicely browned.
Serve each chop with a wedge of lime.