This recipe's the perfect one to make for a small gathering! You can even make them ahead of time & then pop them in the oven just before serving them!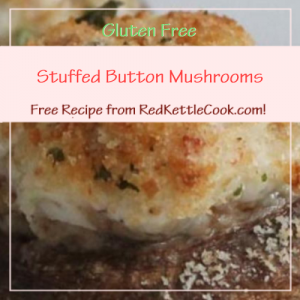 Yields 4 – 6 servings
Ingredients:
1 lb. fresh organic button mushrooms, about a half dollar in size.
2 T. mayonnaise
2 slices of lean ham lunch meat, chopped
Instructions:
Preheat oven to 350°F.
Remove the stems & the insides of the mushrooms.
Chop the stems & mix them with the bread crumbs (or gluten free Panko bread crumbs).
Then add the mayonnaise & ham. Mix until combined.
Stuff the mushroom caps with the bread crumb mixture.
Place them in a casserole dish that's been sprayed with organic extra virgin olive oil spray.
Bake them for 15 minutes or until the top is browned, but not burnt, in color.