Why have a steak and a side salad, when you can combine the two, for a mouth watering and sensory pleasurable meal?!!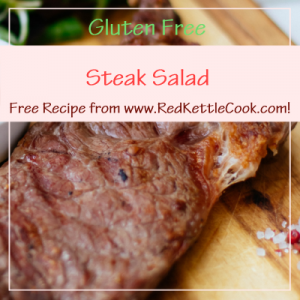 Ingredients:
1 3/4 pounds of beef sirloin steak
1/3 cup of olive oil
3 tablespoons of red wine vinegar
2 tablespoons of lemon juice
1 clove of garlic, minced
1/2 teaspoon of salt
1/8 teaspoon of ground black pepper
1 teaspoon of Worcestershire sauce
2 tomatoes, sliced
1 small green bell pepper, sliced
1 carrot, sliced
1/2 cup of red onion, sliced
1/4 cup of pimento-stuffed green olives, sliced
Directions:
Preheat grill for high heat. Lightly oil grate.
Place steak on grill and cook for 3 to 5 minutes per side or until desired cooking is reached (read: rare, medium rare, etc.).
Remove from heat and let it sit until cool enough to handle.
Slice steak into bite size pieces.
In a small bowl, whisk together the olive oil, vinegar, lemon juice, garlic, salt, pepper and Worcestershire sauce. Mix in the cheese. Cover and place dressing in the refrigerator.
Onto chilled plates arrange the lettuce, tomato, pepper, onion and olives.
Top with steak and drizzle with dressing.
Serve with crusty grilled French bread.