Spinach Dip in a Bread Bowl
What a great recipe to have when you're inviting friends over to your house for a get together! Or enjoy it with your favorite girlfriends while you're talking about the latest fashions!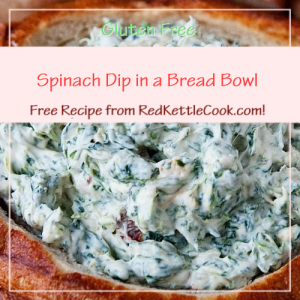 Ingredients:
1 pkg. frozen organic spinach, thawed, drained & chopped
1 pkg. gluten free Knorr vegetable soup
1 1/2 c. sour cream
1 c. mayonnaise
1 – 8 oz. can of water chestnuts, chopped
3 organic green onions, chopped
1 loaf of gluten free bread such as rye or pumpernickel
Instructions:
Combine all ingredients in a bowl, except for the bread & chill.
Cut out the center of the loaf of bread. Break up the center into bite sized pieces & arrange around the bread loaf on a serving tray.
Put the dip in the center of the loaf of bread.
You can serve this with gluten free crackers, your favorite organic vegetables, as well as dipping the bread surrounding the bowl of bread into the dip.