This mouthwatering soup takes less than an hour to make & the results are stupendous! You can eat this soup as a first course, or as a main dish with some crusty bread, or a salad.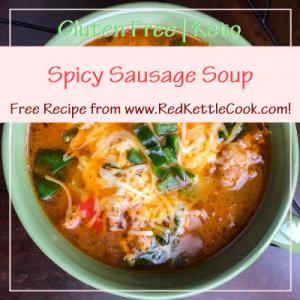 Serves 6
Ingredients:
Instructions:
Heat olive oil in a large soup pot or Dutch oven over medium-high heat. Add sausage & cook, stirring occasionally until the sausage is no longer pink inside, approximately 5 minutes. As the sausage cooks break it into small pieces with a wooden spoon.
Add the red & Poblano pepper, celery, basil, oregano, rosemary, chili powder, cumin, and cinnamon to the pot. Generously season with salt and black pepper (to taste) & stir to combine. Cook, stirring occasionally, until the veggies have softened around 5 to 6 minutes.
Add the chicken stock & simmer for 20 minutes, stirring occasionally. Add the spinach & cook for another 4 to 5 minutes, or just until the spinach wilts.
Remove from heat & serve immediately.
Top it with shredded Cheddar Jack cheese & some additional diced Poblano pepper (if desired).