Spicy Roasted Cauliflower
This quick & easy side dish goes with just about anything that you serve for supper! And as an added bonus, it's a great leftover, too!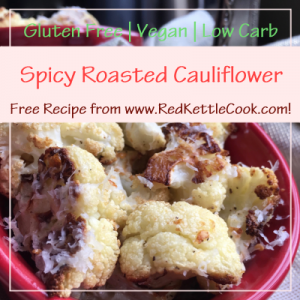 Serves 4
Ingredients:
1 large head cauliflower, rinsed, dried & separated into florets
2 to 3 cloves garlic, peeled & finely minced
Salt & freshly ground black pepper, to taste
1/2 c. Parmesan cheese, freshly grated & divided
Instructions:
Preheat oven to 450˚F & line a large, rimmed baking sheet with parchment paper.
Add cauliflower florets, olive oil, minced garlic & crushed red pepper flakes to a large bowl & toss to coat. Season with salt and pepper (to taste).
Spread seasoned cauliflower on prepared baking sheet in a single layer. Roast for 20 to 25 minutes at 450˚F, stirring once to be sure cauliflower cooks evenly.
Remove from oven & set the broiler to high. Evenly sprinkle cauliflower with 1/4 cup freshly grated Parmesan cheese & place under the broiler until golden brown (approximately 2 minutes).
Remove from oven & sprinkle with remaining Parmesan cheese & serve immediately.