Want the great taste of lasagna without all the carbs? Try this recipe, you won't be sorry!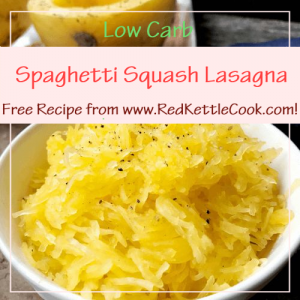 Ingredients:
3/4 cup spaghetti sauce of your choice, divided
1 cup cooked spaghetti squash
1/2 cup ricotta cheese
1/8 cup Parmesan cheese, divided
1 cup mozzarella cheese, shredded, divided
1 cup Italian sausage crumbles, pre-cooked
Salt and pepper, to taste
Directions:
Preheat oven to 350°F.
Spray a 5″ x 7″ oven-proof baking dish with vegetable oil.
Pour 1/4 cup spaghetti sauce in the bottom of the baking dish.
Add cooked spaghetti squash to dish, spreading it evenly.
Top with ricotta cheese.
Sprinkle with Parmesan cheese.
Add 1/2 cup shredded mozzarella cheese, spreading it evenly.
Pour 1/4 cup of the spaghetti sauce over the cheeses.
Layer the Italian sausage crumbles next, spreading them evenly.
Pour the last 1/4 cup of spaghetti sauce over the sausage.
Top with the last of the Parmesan cheese and shredded mozzarella cheese.
Cover with aluminum foil and bake for 15 – 20 minutes until cheese is melted and bubbly.
Uncover and bake another 5 minutes.
This recipe can be prepared ahead of time. It can be kept in the refrigerator for up to two days. Or you can bake it, wait until it cools down completely, and freeze it.
You can double the recipe if you'd like to use a larger baking dish.