Southwestern Refried Bean Dip
This three ingredient dip will make your tortilla chips beg for more! It tastes so good you'll want to double the batch & save some for later!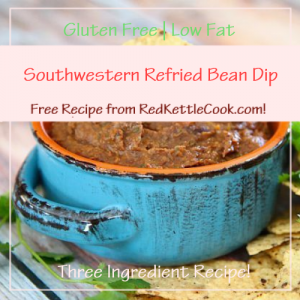 Yields 14 – 1/2 c. servings
Ingredients:
1 1/4 oz. Taco Seasoning Mix
1 – 16 oz. container of fat free sour cream
1 – 16 oz. can of gluten free & fat free refried beans
Instructions:
Mix taco seasoning mix & sour cream in a glass bowl until well blended.
Stir in refried beans.
Serve as is or chill it in the fridge for 30 minutes to an hour. Either way it goes great with crispy organic & gluten free  tortilla chips!
Variation: If you like spicier dips, add a few drops of organic & gluten free hot sauce (to taste).
Per Serving Nutritional Facts: 0 grams fat, 72 calories, 13 grams of carbs