Although the name of this recipe says it's a "coffee cake" that doesn't mean it has to be eaten with coffee! It's delicious with anything you want to eat it with! At any time of the day! And with breakfast, lunch or supper! It's so versatile you could even eat it as a snack!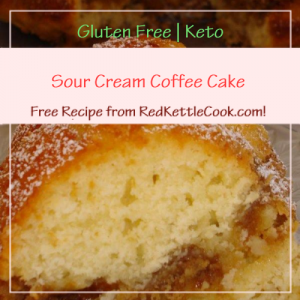 Yields 12 slices
Ingredients for the Sour Cream Coffee Cake:
Ingredients for the Topping:
Instructions:
Preheat oven to 350°F.
Combine sour cream, oil, water & eggs together. Then add the almond extract & mix well.
Add the whey powder, oat flour (or gluten free Prairie Toasted oat flour), gluten flour (or gluten free all purpose flour), baking soda, baking powder, cinnamon, sweetener, Swerve & mix until blended.
Pour into a greased springform pan.
For the topping combine the nuts, 2 T. swerve & cinnamon & sprinkle over the top of the coffee cake just before you bake it.
Bake it for 30 to 35 minutes. Or until a toothpick, inserted in the middle of it, comes out clean.
Recipe note: Each slice has 6 carbs & 11 proteins