Skinny Chicken Cordon Bleu
This healthy version of Chicken Cordon Bleu. It is very tasty and the cleanup is a breeze!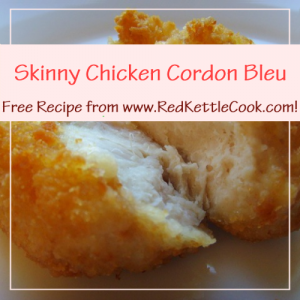 Ingredients:
4 wedges Laughing Cow Swiss Cheese™ or a spreadable cheese of your choice
4 – 5 oz. boneless/skinless chicken breast cutlets
1/2 cup bread crumbs
4 slices deli ham, thinly sliced
Salt and pepper, to taste
Directions:
Preheat oven to 350°F.
Spray an 8″ x 8″ pan with nonstick cooking spray.
In a medium bowl mix cheese wedges until smooth.
Season chicken cutlet with salt and pepper.
Evenly distribute cheese mixture among the center of each cutlet.
Lay the deli ham on the cheese mixture, pressing down on it to secure it.
Tightly roll each over the ham and cheese mixture and secure with a toothpick, if needed.
Coat each roll with breadcrumbs.
Place in the backing pan.
Cover pan with aluminum foil and bake for 20 minutes.
Remove foil and cook 20 minutes more, or until chicken is done.