Shrimp Stuffed Portobello Mushrooms
This recipe is for an appetizer & it's a good one for that. But nobody says you can't eat it as a meal & then it becomes a great one for that!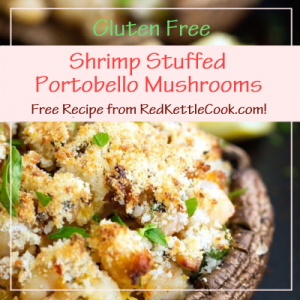 Ingredients:
4 large organic portobello mushrooms
1/2 lb. medium-sized shrimp
1/4 c. unsalted butter
1/2 c. organic onion, chopped
1 organic celery stalk, chopped
Instructions:
Preheat oven to 350°F.
Rinse mushrooms in cold water & pat dry. Remove & chop mushroom stems. Set aside mushroom caps.
Peel, clean & chop shrimp.
Melt butter in a heavy bottomed skillet on medium heat. Add chopped mushroom stems, onion & celery.
When onion is translucent, add the shrimp.
Remove from the heat when the shrimp begins to turn pink (no longer than 3 min.).
Add Panko bread crumbs & stir to coat. Remove from the heat.
Stuff mushroom caps with the stem & shrimp mixture.
Place in a shallow baking dish & sprinkle with the chicken broth. Add the remaining broth to the baking dish.
Cover with foil and bake for 20 min. or until the broth just starts to bubble.
Serve while still hot.