Double this recipe & you'll have some happy tummies! Once the flavors meld the taste is incredible!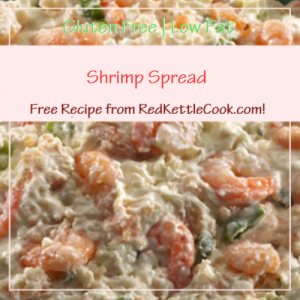 Yields: 16 (3 oz.) servings
Ingredients:
1 1/2 c. shredded fat-free mozzarella cheese, divided
1 – 8 oz. pkg. cream cheese, softened
1 – 8 oz. container of sour cream
1/2 c. plus 1 T. organic chives, chopped & divided
8 oz. of gluten free cocktail sauce
1 lb. cooked cocktail shrimp
1/2 c. organic tomato, finely chopped
Directions:
Mix 1 c. of the mozzarella cheese with the sour cream, cream cheese &
1/2 c. fresh chives until smooth.
Spread it on a cake plate. Then cover it with the cocktail sauce.
Top that with the remaining 1/2 c. mozzarella cheese, shrimp, 1 T. chives & the tomatoes.
Serve with fat-free & gluten free crackers.
Nutritional Facts per serving: Trace grams fat, 90 cal. & 8 grams of carbs.