This is an easy recipe to make. But the way it's made brings out the flavor of the shrimp in such a way that you've never tasted it like this before!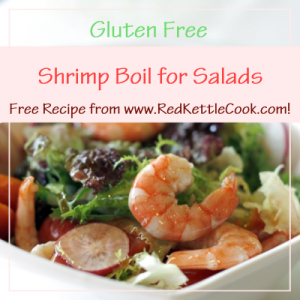 Ingredients:
1/2 cup distilled white vinegar
1/2 cup water
1-pound medium to large shrimp, peeled & deveined
1 T Old Bay Seasoning™
1/4 tsp. Tabasco sauce (optional)
Instructions:
Combine the water, vinegar & seasonings to taste. Bring to a boil.
Add the shrimp, stirring occasionally.
Cook for about three to five minutes, just until shrimp turns pink.
Drain & chill in the refrigerator for about an hour.
Add it to your favorite salad and enjoy!