Shrimp Bayou with Wild Rice
Amazing! Astounding! Surprising! Insert any adjective you'd like to & it'll fit this recipe! It tastes soooo good & is good for you too!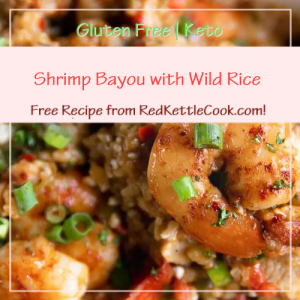 Yields 4-6 servings
Ingredients:
Instructions:
Preheat oven at 350°F.
Cook rice according to the package instructions.
In a medium saucepan, melt the butter (or Ghee) over low heat. Then mix in the flour, salt & pepper.
When bubbly, stir in the milk & cook over medium heat. Stirring constantly with a whisk until thickened. Then add the cream cheese & whip some more until it's melted & smooth.
Cook asparagus until it's tender.
Place it in a casserole dish sprayed with extra virgin olive oil.
Mix the shrimp & mushrooms with the rice. Then spoon it all over the asparagus. Top it with the sauce.
Bake it for 20 minutes.