This dip is really easy to make & it has a lovely display! But don't let the looks of it be the reason you want to make it and/or try it. Because the flavors meld together to create Heaven on a gluten free tortilla chip!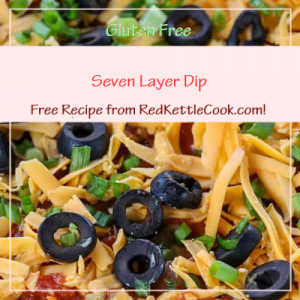 Ingredients:
8 oz. cream cheese, softened
1 sm. can of chili without meat
1/2 jar of gluten free salsa
8 oz. cheddar cheese, shredded
3 to 4 organic scallions
1 can of black pitted olives, sliced
Instructions:
Preheat oven to 350°F.
Spread the softened cream cheese on the bottom of a pie plate or an ovenproof dish.
Then cover it with the chili & then the salsa.
Sprinkle the cheddar cheese.
Next add the chopped scallions on top.
Chop up the olives & sprinkle them on top of the scallions.
Bake for 20 to 30 minutes. Or until the juices are bubbling up the sides of the pan & the cheddar cheese has melted on top.
Serve warm with gluten free tortilla chips.