If you're a fan of sauerkraut then this casserole's one of the best! The flavors are strong & they meld together quite nicely! As an added bonus you're cooking it in a crockpot so there's little to no mess!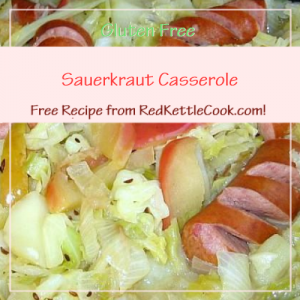 Ingredients:
Instructions:
Fry bacon until crisp, remove from skillet & put it on a plate with a paper towel to soak up the excess grease.
Add flour to the bacon drippings leftover in the skillet & blend well.
Stir in sauerkraut & mix well.
Place sauerkraut & bacon in a crockpot.
Add remaining ingredients then stir together thoroughly.
Cover & cook on low for 7 to 9 hours. Or on high for 3 to 4 hours.