Saucy Crescent Roll Ravioli
This recipe will fill up even the hungriest of your crew! It's relatively easy to make & doesn't take long to bake!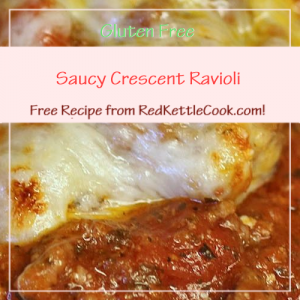 Ingredients:
1 1/2 lbs. ground beef
1/4 c. organic onion, chopped
1 T. flour (or coconut flour or almond flour)
1 tsp. organic parsley flakes
1 – 8 oz. tube of refrigerator gluten free crescent rolls
1/2 c. mozzarella cheese
3 to 5 slices of processed cheddar cheese
Instructions:
Preheat oven to 375°F.
In a large frying pan brown the ground beef then drain.
Stir in 1/2 cup of the spaghetti sauce. Then add the onion, flour (or coconut flour or almond flour) & parsley flakes. Set aside.
Separate the crescent rolls into 4 rectangles. Firmly press the perforations to seal.
Place 3 T. of the beef mixture along one long side of each triangle. Fold the dough over the filling then press the edges to seal. Cut each triangle into 3 squares.
Spread the remaining beef mixture in the bottom of a prepared casserole dish.
Top it with the mozzarella cheese.
Place the squares over the beef mixture. Don't overcrowd them in the pan or the centers will be doughy.
Bake for 15 minutes.
Place a quarter of a cheese slice on each square. Then pour the remaining sauce over the top.
Bake for 10 to 15 minutes more until the cheese has melted & the sauce is bubbly.