What a fresh way to wake up a basic salad! With just four ingredients you can't beat this recipe with a stick!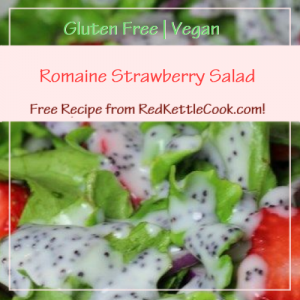 Yields 6 servings
Ingredients:
4 c. of organic Romaine lettuce, torn into bite-sized pieces
1/2 of a med. sized organic purple onion, sliced into thin slices
1 c. fresh organic strawberries, sliced
1/4 c. Champagne Vinaigrette
Instructions:
In a large bowl toss the lettuce, onion & strawberries together.
Serve with the Champagne Vinaigrette dressing lightly poured over the top of each salad.
Then have some more available if anyone wants additional salad dressing.