Roasted Veggies & Salsa Dip
This is the perfect dip to eat when it's summer & there's fresh veggies around! Such as from your garden or your neighbor's garden! Or from a farmer's market, local veggie stand, or in the produce aisle of your favorite grocer!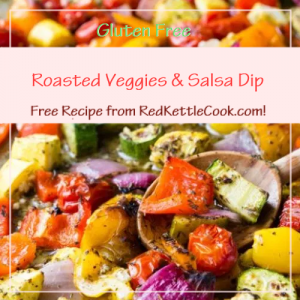 Yields 8 – 1 cup servings
Ingredients:
1/2 c. mayonnaise
1/4 c. sour cream
2 T. salsa, of your choice
1 organic clove of garlic, minced
1 med. organic sweet red bell pepper
1 med. organic green bell pepper
1 med. organic yellow summer squash
1 med. organic red onion
12 organic fresh button mushrooms
Instructions:
In a small bowl combine the mayonnaise, sour cream, salsa & garlic. Refrigerate for at least 30 minutes. Overnight is best, though.
Preheat the oven to 450°F.
Cut peppers & squash into 1 1/2″ pieces. Then slice the onion into wedges.
In a large bowl combine the mushrooms, peppers & onion.
Drizzle them evenly with the oil & toss to coat.
Place in a single layer on an ungreased baking pan.
Bake uncovered for 10 minutes or until they're crisp & tender.
Serve with the dip.
Serving size = 1 cup of veggies with 2 T. of dip: Calories = 65 | Total fat = 2 g. | Sodium = 140 mg. | Protein = 2 g. | Carbs = 10 g.