Purple potatoes have a gorgeous color, amazing flavor & this recipe couldn't be any easier to make!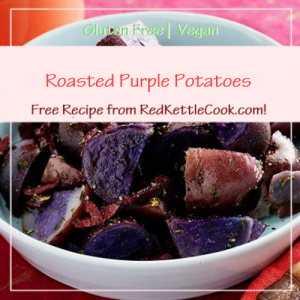 Ingredients:
3 organic purple potatoes, peeled & cut into 1/2" slices
8 to 10 sprigs fresh organic thyme, leaves removed & stems discarded (optional)
Instructions:
Preheat oven to 400°F.
Line a rimmed baking sheet with parchment paper. In a glass bowl, toss the sliced potatoes with the olive oil.
Arrange coated vegetable slices in a single layer, leaving space between them. Sprinkle with citrus (or kosher) salt & thyme leaves. Place baking sheet in preheated oven & roast about 15 minutes before turning.
Continue baking another 10 to 15 minutes or until potatoes are fork tender.
Remove from oven & allow to cool before handling. Remove browned potato skins before serving to reveal the gorgeous color underneath.
Serve as a side dish or add to your favorite mixed green salad for a bold splash of color.