Roasted Potatoes with Dill!
There's nothing finer than a side dish that compliments just about any type of main meat or fish that you serve. And this recipe is one of those that you'll want to keep close at hand for that very reason!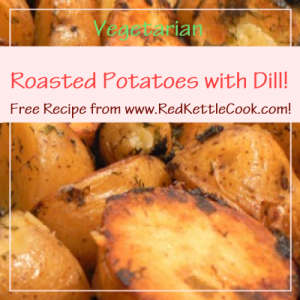 Ingredients:
8 medium organic golden potatoes, cut in half
2 organic green onions, diced
2 T. fresh organic dill, chopped (or 1 T. dried organic dill)
Instructions:
Preheat your oven to 350°F.
In a large mixing bowl, add the green onions, olive oil & dill.
Add the potatoes & toss to coat thoroughly. Sprinkle with salt & pepper (to taste).
Bake in an oven-safe casserole dish for about 50-60 minutes and turn every 15 minutes, so they brown evenly on all sides.
Variations:
Use this method to make any kind of flavor combination you'd like. Vary the type of potatoes, herbs & more.