Rice Cooker Chicken with Garlic Rice
On a cold winter's day, nothing is better than Roasted Chicken and the smell of garlic permeating throughout the house.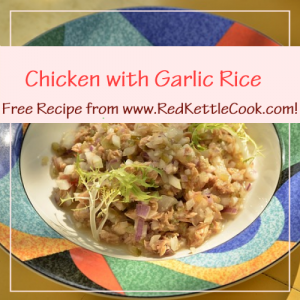 Ingredients:
2 Chinese sausage, sliced (optional)
2 lbs. chicken, cut into chunks
1 T. light soy sauce
1 T. dark soy sauce
1/4 tsp. white pepper
2 T. rice wine
2 inches of ginger, peeled and cut into thin strips
1/2 tsp. sesame oil
1 1/2 T. oil
Ingredients for Rice:
4 cups of rice
4 cups chicken broth
1-2 T. chicken stock powder (optional)
1 tsp. dark soy sauce
Green onions, chopped (optional garnish)
Directions:
In a bowl, add light soy sauce, dark soy sauce, white pepper, and rice wine to chicken. Mix well and let marinate for at least 1 hour in the refrigerator. For better results, prepare the night before.
If cooking in a rice cooker, wash rice, add chicken broth, dark soy sauce and chicken stock powder. Set aside.
Heat oil in a frying pan. Add marinated chicken, ginger and sesame oil. Do not cook all the way. Add to the rice.
Cover and start the rice cooker. When the rice cooker is done cooking, mix the rice and chicken evenly. Let the rice sit in the rice cooker on warm for about 10-15 minutes.
When ready to eat, serve and garnish with green onions.