If you love Reuben sandwiches then you're going to love this recipe! It's much easier to make & it doesn't make as much of a mess to make it!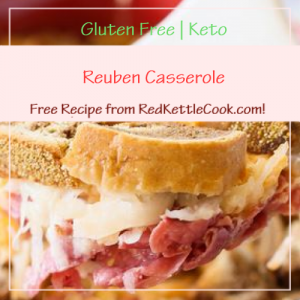 Ingredients:
16 oz. of organic sauerkraut, drained
1/4 c. organic onion, chopped
1/4 c. fresh organic parsley, chopped
1 tsp. organic caraway seeds
2 c. shredded Swiss cheese
1/2 lb. organic corned beef
3 slices of gluten free rye bread, cubed
1/4 c. butter, melted
Instructions:
Preheat oven to 375°F.
Combine sauerkraut, onion, parsley & caraway seed. Mix well.
In an 8″ square baking dish, layer sauerkraut mixture, 1 c. cheese, 1/3 c. dressing & corned beef.
Top with remaining cheese & dressing.
Toss bread cubes with the butter. Then sprinkle them over the casserole.
Bake for 35 to 40 minutes.