There's no reason to rush to the grocery store when you find out you need some pickles. This recipe is quick & easy to make! And the pickles will taste great!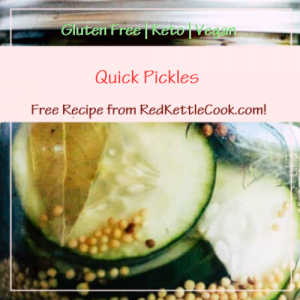 Ingredients:
Instructions:
Slice 3 large cucumbers & 2 onions in a food processor or mandolin. Should equal 6 cups of cucumbers & 2 cups of onions.
In a large saucepan, bring the remaining ingredients to a boil & stir until the Swerve (or Monk fruit sweetener) is dissolved.
Pour this mixture over the cucumbers & onions.
Marinate for at least 24 hours.
Place the cucumbers & onions in 1/2 pint or 1 pint jars.
Then refrigerate. Should keep in the fridge for up to two weeks.