This gluten free recipe just melts in your mouth! It's has all the ingredients that scream autumn but it can certainly be enjoyed the whole year through.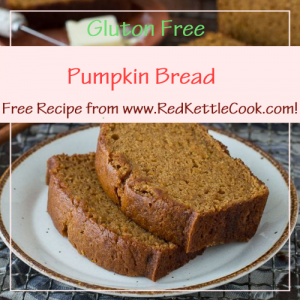 Ingredients:
1 cup almond flour
1/4 tsp. salt
1/2 tsp. baking soda
1 T. cinnamon
1 tsp. nutmeg (optional)
1/2 tsp. cloves (optional)
1/2 cup pumpkin
1 T. honey
1/4 tsp. sweetener
3 eggs
Directions:
Preheat oven to 350°F.
Mix flour salt, baking soda, and spices in food processor.  Pulse until mixed.
Add pumpkin, honey, sweetener and eggs.  Pulse for 2 minutes.
Scoop batter into parchment paper lined loaf pan.
Bake for 35-45 minutes or until a toothpick inserted into the middle of the bread comes out clean.
Let cool one hour before cutting.