Portobello Mushroom Pizza
If you're craving a pizza, but not all the carbs that are in the crust, then this recipe's for you!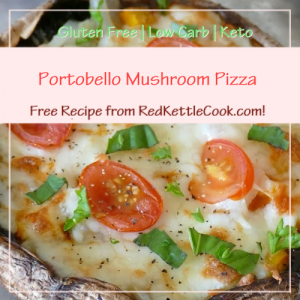 Ingredients:
4 large organic portobello mushrooms (should equal 1 lb.)
1 small to medium organic sweet onion, sliced
1 organic shallot, sliced
1/2 c. organic small tomatoes, sliced
1/2 lb. smoked Most Gouda cheese, grated
1/2 tsp. organic oregano
1/2 tsp. organic basil
1/2 tsp. organic black pepper
1 T. organic fresh organic basil, chopped (optional garnish)
Instructions:
Preheat oven to 425°F.
Quickly wash & dry the mushrooms. Then remove their stems.
Place them gill side up on a wire wrack that's been sprayed with extra virgin olive oil.
Using a high sided cast iron skillet cook onions & shallots in olive oil until soft.
Add seasonings & cook for about 10 minutes.
Spread seasoning mixture into the mushrooms.
Next add the grated Most Gouda cheese.
Top with the tomatoes & fresh basil (optional).
Bake for 30 minutes or until the cheese is melted but not turning brown.