Pork Tenderloin & Stir Fry
A flavorful stir fry doesn't have to feed a lot of people, as this delicious two person recipe proves.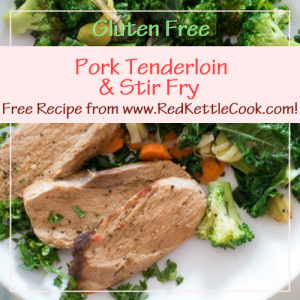 There are three steps to make this recipe. It is not a difficult meal to make, it just takes a bit of patience to make it all come together.
Ingredients for Pork Tenderloin:
Pork Tenderloin
1 T. olive Oil
1 T. Cajun seasoning
2 T. honey
Directions for Pork Tenderloin:
Preheat oven to 350°F.
Rub tenderloin with olive oil, then rub with Cajun seasoning.  Let stand for 15 minutes.
Heat a  large oven-proof skillet over medium-high heat.  When hot, lightly mist with olive oil and cook tenderloin until just brown on all sides.  Remove from heat and use a pastry brush to brush on honey on all sides.
Put in oven and cook for 18 minutes or until the internal temperature reads 155° degrees with a meat thermometer.  The tenderloin will be slightly pink.
Remove from the oven and put a loose tent of aluminum foil on top of meat (not over whole pan) and let sit 10 minutes.
Transfer to cutting board and cut or wait to cut until your stir fry is ready to plate up.
Ingredients for Stir Fry:
1 T. peanut oil
1 cup bell peppers
1 cup carrots
1/2 cup onions
1 cup broccoli
1 can pineapple chunks
Directions for Stir Fry:
Stir fry in peanut oil the peppers, carrots, onions and broccoli until tender.
Open the pineapple and set aside.
Ingredients for the Stir Fry Sauce:
1/2 cup pineapple juice
1/4 cup ketchup
1/4 cup rice vinegar
3 T. brown sugar (or monk fruit sweetener)
2 T. coconut aminos (or soy sauce or Braggs™)
1 T. tapioca (or arrowroot)
Directions for the Stir Fry Sauce:
Mix all together until well incorporated.
Pour over stir fry vegetables.
Cook the stir fry until it is bubbling.
Then add the tapioca (or arrowroot) and the pineapple.