Want a recipe that's super simple to make & one that everyone will love? Try this one & you'll be the queen of the party!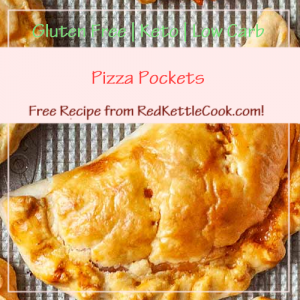 Yields 6 servings
Ingredients:
1 – 10 oz. pkg. of gluten free refrigerated pizza dough
18 slices of turkey pepperoni
6 sticks of mozzarella cheese
Instructions:
Preheat oven to 425°F.
Coat a baking sheet with extra virgin olive oil spray.
Roll out pizza dough on baking sheet to for a 9″ x 12″ rectangle.
Cut the pizza dough into 6 (4″ x 4 1/2″) rectangles.
Spread about 1 T. of the pizza sauce down the center third of each rectangle. Then top it with 3 slices of pepperoni & a mozzarella cheese stick.
Bring the ends together over the cheese & pinch them to seal them.
Then using a fork press it around the edges to make sure they're sealed completely.
Place seam side down on the prepared baking sheet.
Bake for 10 minutes or until golden brown.
Serving size = 1 pizza pocket: 3g Carbs & 602mg Protein