The pineapple jam is what makes this tart special! It's sweet and tangy and tastes like you're having a party in your mouth!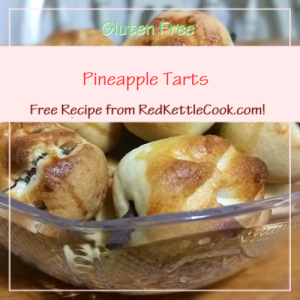 Ingredients for Pineapple Jam:
Ingredients for Pastry:
Instructions for Pineapple Jam:
Preheat oven to 375°F.
Place entire contents of the can of pineapple, sugar, cinnamon & cloves into a sauce pan. Cook over medium heat until mixture starts boiling.
Turn heat down to low & continue cooking, stirring regularly until the water dries out and jam thickens. It will have a sticky consistency & a brown, caramel color.
Let cool.
Instructions for Pastry & Assembly:
Place 1 cup flour, butter & salt in a mixing bowl.
Using a pastry cutter, blend into a coarse crumbly mixture.
Add 2 tablespoons ice cold water into the mixture, mix until it forms into dough. Add more water if mixture is too dry to form into dough. The dough should not be too dry nor sticky.
Divide the dough out into small 1 inch sized balls. Roll each out to about 1/8 of an inch.
In the center of the dough, place about 1 tsp. pineapple jam.
Wrap the dough around the pineapple jam. Pinch away excess dough (if any).
Roll between your palms to form the shape of a pineapple. Place on a cookie sheet lined with parchment paper or a silicone baking mat.
Using a pair of small, sharp scissors, snip the body of the dough to form a pattern like a pineapple has.
Push a clove into the top of the cookie to form the pineapple stem.
Brush egg over cookies.
Bake at 375°F for about 10 to 15 minutes or until pastry is golden.