When it's hot outside & you're sweating bullets. This is the drink that'll hit the spot! Not to mention that it'll keep in your freezer for up to two months!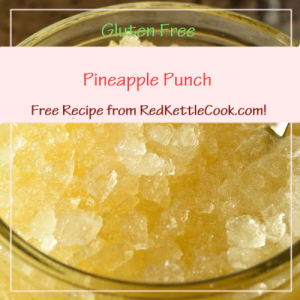 Ingredients:
2 – 46 oz. cans of pineapple juice
1 – 36 oz. bottle of ginger ale
1 – 2 liter bottle of lemon lime soda
1/4 c. grenadine
Ice Mold (fill a bundt pan with water, sliced limes & freeze)
Sprinkle of organic mint leaves & organic orange slices (optional garnishes)
Instructions:
To serve run the bottom of the bundt pan under warm water.
Then break up the ice with an awl, or a sharp knife & fork.
Then combine all ingredients together.
Serve in a glass & add a spoon to eat it. Or add a straw if it's liquid enough to drink it.