It doesn't matter how you pronounce pecans. What matters is that these muffins are super easy to make & have very few carbs in each muffin!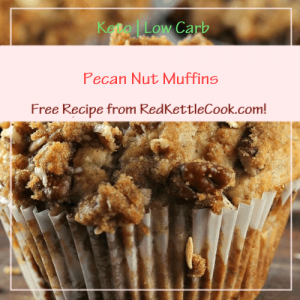 Makes 12 muffins
Ingredients:
Instructions:
Preheat oven at 350°F.
Combine oil, water, whipping cream, eggs, vanilla & Monk fruit sweetener together. Mix well.
Add Swerve, vanilla whey powder & mix until moistened.
Stir in nuts.
Pour into 12 greased (or 12 lined with muffin papers) muffin tins.
Bake for 10 to 15 minutes or until a toothpick inserted into the center of them comes out clean.
Keep an eye on them so they don't overcook!
Nutritional Note: Each muffin has 3 carbs & 11 proteins