This is a great recipe to make ahead of time. By cooking all of the main ingredients together. Then topping them with the biscuits just before you put the casserole in the oven! Perfect for a busy family!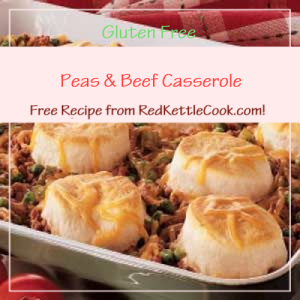 Ingredients:
Instructions:
Preheat the oven to 450°F.
Sauté the onions in butter (or Ghee) for 3 minutes.
Add the beef or turkey & cook over low heat until brown. Separating it with a fork as it cooks.
Blend in flour, salt & pepper. Blend well.
Then add the milk & peas. Heat but don't boil! Simmer for 3 minutes, stirring constantly.
Transfer to a 3-quart casserole dish that's been sprayed with extra virgin olive oil.
Prepare Carbquik Baking Mix according to the package instructions & pat to 1/2″ thickness.
Cut biscuits & place on top of the meat mixture.
Bake for 20 minutes or until the biscuits are well browned.