You'd probably never put these two delicious produce items together, but until you've tried them, you don't know what you're missing!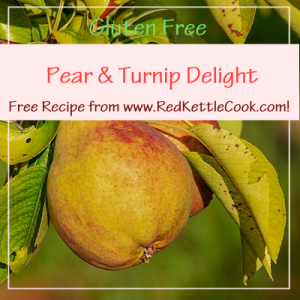 Serves 4-6
Ingredients:
1 lb. turnip's
3 pear's
1 shallot, peeled and thinly sliced
3 tbsp. unsalted butter
2/3 cup walnut halves
Juice of 1/2 of a lemon
Salt and pepper
Handful of chopped parsley
Instructions:
Peel the turnip's and cut them into half lengthwise. Then cut them into 1/4 inch thick slice's.
Cut the pear's into half, core them. And, like the turnip's, slice them into 1/4 inch thick slice's.
In a large frying pan, melt the butter and fry the turnip's until tender and crisp, about 8 minutes.
Add the pear slice's and shallot and sauté for about 3 minutes.
Add the walnut halves and cook for a further 2 minutes.
Season well with salt and pepper and add the lemon juice. Toss well.
Sprinkle with the fresh parsley and serve immediately with any meat dish.