Are you craving Chinese food, but don't want all the fat and MSG? Try this gluten free and low carb Peanut Chicken Skillet recipe instead.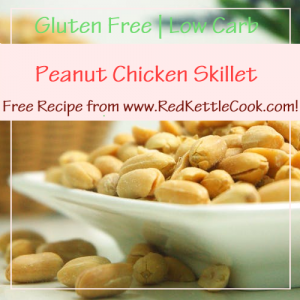 Prep Time: 10 minutes
Cook Time: 20 minutes
Yields: 4 Servings
Ingredients:
1 1/2 lb chicken breast, cut into tender sizes pieces (I cut mine into bite sized chunks)
Sea salt and black pepper, to taste
2 T. butter
2 T. olive oil
1 red bell pepper (about 3.5 oz), julienned
3 cloves garlic, minced
3/4 cup chicken stock
1/3 cup natural creamy peanut butter
3 tbsp soy sauce or coconut aminos
1/2 tsp crushed red pepper flakes
3 green onions, chopped
Directions:
Season the chicken breasts with a little salt and pepper on both sides.
Heat a large skillet over medium-high heat. Add butter and olive oil.
Add the chicken to the skillet and sear for 5-10 minutes, browning on both sides.
Reduce heat to medium-low and add the red peppers and garlic to the skillet.
Saute for an additional 5 minutes. (Be careful not to scorch the garlic)
In a mixing bowl, combine chicken stock, peanut butter, soy sauce and red pepper flakes. Whisk until well incorporated.
Pour sauce into skillet. Bring to a boil over medium-high heat, then reduce heat to low and let simmer, stirring frequently for 5 minutes.
Plate it and sprinkle green onions over top before serving.