These little morsels of goodness are so easy to make! They're perfect for game day, a party buffet, or just about any occasion!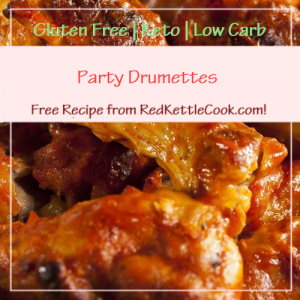 Yields 20 drumettes
Ingredients:
Instructions:
Preheat oven to 350°F.
In a large saucepan boil the drumettes for 8 minutes on the first side. Then turn them over & boil them for about 6 minutes until browned.
In a separate bowl combine the soy sauce, vinegar & garlic powder. Stir until well mixed.
Place the drumettes in a shallow baking dish that's been sprayed with organic extra virgin olive oil spray.
Pour the contents of the bowl over the drumettes.
Cover & bake for 30 minutes or until done.
Serving size = 1 drumette: 0 Carbs; 8 g Protein