Am sure you've eaten raw radishes. Like maybe in a salad? But have you tried them baked in the oven? Let me assure you, they're absolutely marvelous to eat & we think you're going to love them!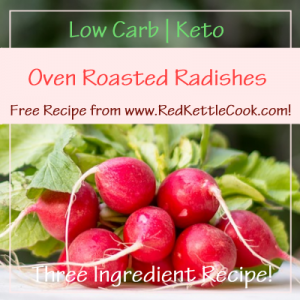 Ingredients:
Instructions:
Preheat your oven oven to 375°F.
Remove the greens from your radishes & clean them thoroughly. You can save the greens and sauté them, if you'd like. Then place them in a mixing bowl.
Add the oregano to your mixing bowl. Use as much oregano as you'd like, depending on the amount of radishes you have on hand. You can also substitute dry oregano or other herbs (if you prefer). Experiment with the flavors for best results.
Coat the radishes and oregano lightly in olive oil & place in an oven-safe baking dish.
Add salt and pepper (to taste).