Oven 'Grilled' Romaine with Roasted Chicken Salad
Sometimes the smallest details make the biggest difference. Raw Romaine lettuce is a delicious, nutritious & crispy addition to any salad. However, when you cut a head of fresh Romaine in half and cook it on a grill for a few minutes—magic happens. The flavors intensify & lend an interesting dimension to an otherwise basic salad.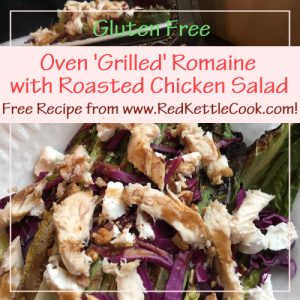 Serves 4
Ingredients for Salad:
2 heads Romaine lettuce, washed, patted dry and cut in half length-wise
8 oz. rotisserie chicken breast meat
4 oz. goat cheese
1 cup red cabbage, thinly sliced
1/2 cup pecans, chopped
Ingredients for Balsamic Vinaigrette
1/2 cup organic extra virgin olive oil
1/2 cup balsamic vinegar
2 T. fresh lime juice
1 tsp. Dijon™ mustard
1 clove garlic, finely minced
2 tsp. honey
Salt and pepper, to taste
Directions to 'Grill' the Romaine Lettuce:
Set your oven to broil.
Cut the Romaine heads in half and place on a baking sheet lined with parchment paper. Brush with olive oil and sprinkle with salt and pepper. Place under the preheated broiler for a couple minutes (keeping a close eye on it because lettuce will burn quickly). Remove once the lettuce is a nice, golden brown.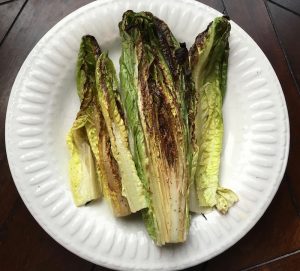 Directions to Finish the Salad:
Add all the ingredients for the balsamic vinaigrette together in a glass bowl. Whisk thoroughly to combine. Allow vinaigrette to sit for at least half an hour to give the flavors a chance to meld.
Place 1/2 browned Romaine head on each plate and top with 2 oz. of chicken and 1 oz. of goat cheese. Divide sliced red cabbage and chopped pecans among the four plates. Drizzle each salad with a little of the vinaigrette and serve immediately.