Remember Grandma making oatmeal cookies way back when? These are much like her recipe except they're gluten free & you might like them more than Grandma's!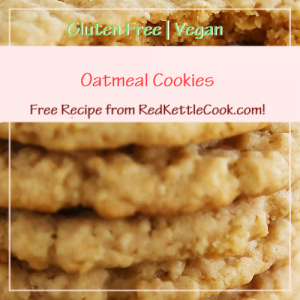 Yields 48 cookies
Ingredients:
Instructions:
Preheat oven to 350°F.
Spray two cookie sheets with gluten free grapeseed spray & set aside.
In a medium sized bowl stir the applesauce, brown sugar (or gluten free & organic brown sugar substitute), cinnamon & nutmeg together until well blended.
Gradually stir in the oatmeal until well blended together.
Drop by rounded teaspoons onto the cookie sheets.
Bake for 15 minutes or until lightly golden brown.
Cool a few minutes on the cookie sheet & then transfer to a cookie cooling rack.