No Bake Peanut Butter Pie
Oh, my! The fluffiness of the pie filling, the flavors that go into it & the chocolate crumb crust. This pie is just heavenly!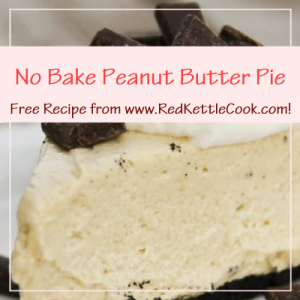 Ingredients:
4 oz. cream cheese
1 cup confectioners' sugar, sifted
1 cup crunchy peanut butter
1/2 cup milk
8 oz. frozen whipped topping, thawed
1 deep-dish chocolate flavored crumb crust
Instructions:
In a large mixer bowl combine cream cheese & confectioners' sugar & mix well.
Add peanut butter & mix.
Slowly add milk & mix well.
Fold in whipped topping.
Pour into pie shell & cover.
Freeze for at least 30 minutes.
Drizzle each serving with chocolate syrup, whipped topping and/or chocolate bits.